Finally Friday! And this week provided us with some more exciting project news.
Once again, our long-time collaborator PEAB has awarded us the contract to install brand new overhead machinery for the concert hall Emigranten in Karlshamn.
A little history
Karlshamnsfastigheter is expanding its science park Östra piren ("The East Pier") with the construction of a new addition they are calling Emigranten ("The Emigrant").
The new addition – located right by the sea, a stone's throw from both the city center and the upcoming district Stärnö sjöstad – will supply Karlshamn with new innovative workplaces, a cinema, a restaurant, and a new concert hall. The area is already home to around 40 companies with 230 employees and is growing steadily. It also hosts Blekinge University of Technology (BTH) and NetPort Science Park, which work to stimulate the development and spread of competencies, business opportunities, education, research, and other innovation-promoting measures.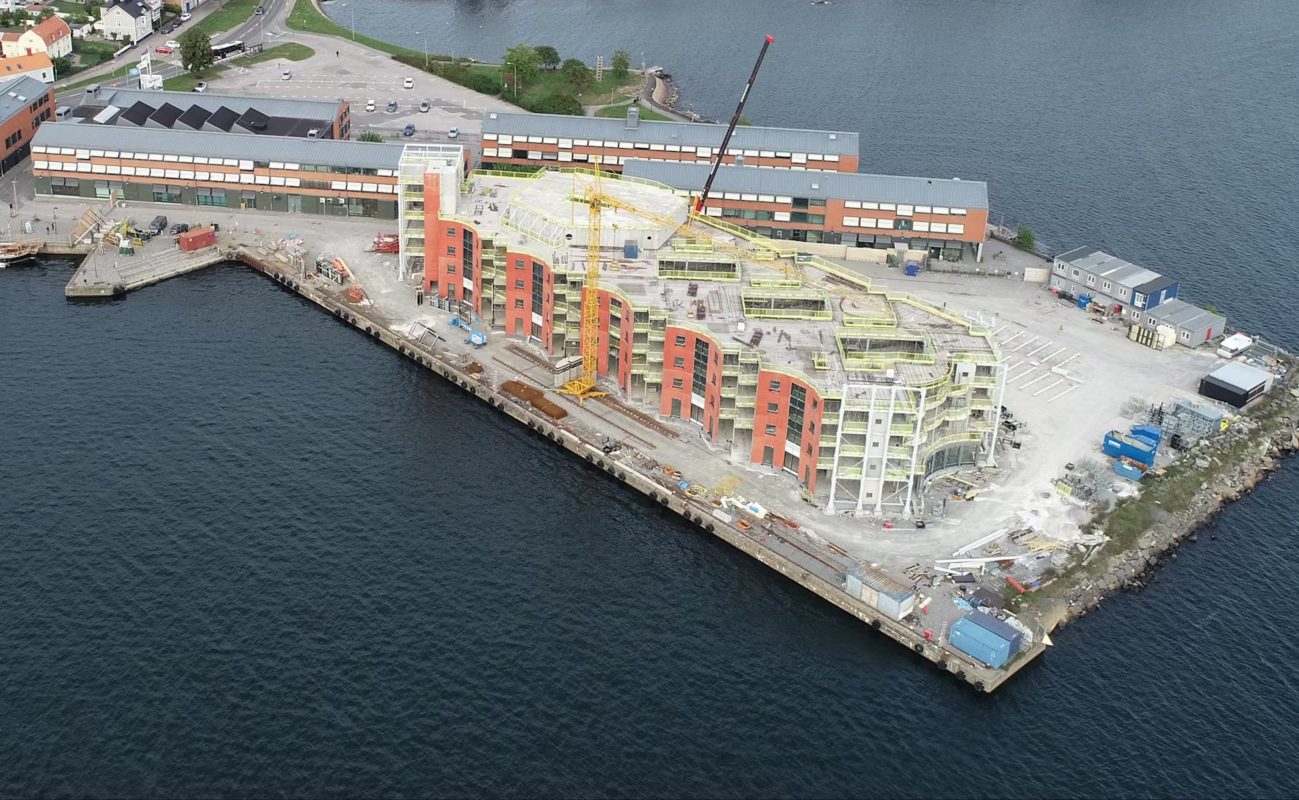 After a bit of a rocky start to the building process in 2020, the new five-story 10,000-square-meter extension is expected to be completed later this year.
PSRIG's part
The overhead machinery in the new concert hall will consist of several motorized FlexBeams equipped with chain hoists from GIS. Everything will be controlled and monitored by our own FlexControl system. Also included in the project are many meters of FlexRail curtain tracks with complete coverings for the stage.
Many of our readers may have noticed that PEAB is a frequent collaborator. We have benefited from their trust during many different installations at this point, and we are very grateful for our prolonged and beneficial partnership.
"We consider it a great honor to have returning clients, especially when it's an esteemed client like PEAB. It means we're doing a good job, delivering on our promises, and providing impactful services. Sort of like a stamp of approval."

Kim Ekblad, chief operating officer PSRIG
The planning phase starts now, and installation is expected to begin during the first quarter of 2024.
Project manager: Kim Ekblad, +46 72-552 18 19
(picture credit: William Lavesson, Karlshamn kommun, Anders Törnqvist Arkitektkontor AB)