About us
PSRIG (Priebe-ScanRig AB) has roots back to Denmark in the 1960s and we are today one of the market-leading players in Scandinavia when it comes to designing, manufacturing, selling, installing and maintaining stage technology for the entertainment and event industry.
We are quite passionate about what we do and always look to the client's needs in the first place. Our goal is to build lasting relationships with clients by delivering final results that exceed expectations. We do this while always keeping safety a top priority. At PSRIG, we're proud of the work we do, helping our clients produce their vision and goals. We are now looking for other passionate, talented, flexible and responsive people to join our group.
Working for us means to work in a professional but friendly environment. There is much own responsibility, but we all look after each other so that we can achieve our goals together. We are a small company that takes care of our people and have a lot of fun along the way.
We are currently in a very expansive phase and seek to employ several key roles to the company. If you are up for a new challenge, want to evolve your professional skills and like working in a friendly group of talented people, then contact us. Please send us your CV along with a brief description of why you would be perfect for the position to jobs@psrig.com and quote the job title in the subject of the email.
Right now we are looking for
Experienced Stage Fitters with metal working skills (Norrköping, Full time)
We are looking for someone with experience of complex installations, preferably from construction, while also being a somewhat skilled metal worker for our workshop.
With us, you will be involved in many exciting projects within the Scandinavian market and get to travel with associated compensation. The assignments often include high altitude work and can be physically demanding from time to time.
Your work would consist of
Doing assignments as an installer/fitter/technician out in the field as well as in the workshop.
Planning the technical details of projects.
Booking of personnel and equipment.
Ordering parts, consumables, and materials.
Working with packing, delivery, and return of equipment.
Inventory and maintenance of equipment.
Quality control in accordance with current routines.
Responsibility for servicing and developing our products.
We would like to see you have
Industry experience from, for example; workshop, fabrication, construction, rigging, welding, electrical installation, etc. is an advantage.
Experience in using workshop machinery and power tools.
Commitment, creativity, personal drive, and a solution-oriented workflow.
Social skills as you will be working closely with clients and collaborators.
Be fluent in Swedish and English, both in speech and writing.
The ability to thrive in a fast-moving environment.
Drivers license with B certification (but BE and C would be meritorious).
Fall protection education, forklift, and scissor lift certification are also meritorious.
Start: Immediately
Extent: Full-time
Placement: Norrköping
Salary: Fixed, as per agreement
For questions about the position or application, email us at jobs@psrig.com or call
+46 10-211 50 50.
Self-driven and competent Sales Person with social skills (Norrköping/Malmö, Full time)
We are looking for someone from the entertainment industry with experience from a sales role or with growing key account relationships. Knowledge about stage technology and the rigging world is a substantial merit.
With us, you'll be actively working with clients and suppliers making sales to markets all over the world.
Your work would consist of
Working closely with the sales manager to formulate strategies to enhance client relations with core clients and gain additional share from these accounts.
Seeking out new business opportunities by identifying potential clients within the entertainment and event industry to increase market share and asset utilization.
Managing current sales and business relationships to expand the services and levels of service we provide to these clients.
Revise and update contracts as needed. Manage these contracts and ensure that billing is correct according to the contract language.
Work with the sales manager to schedule facilities, engineering and manufacturing based on client needs.
Other duties as assigned.
We would like to see you have
A Bachelor's degree (possibly), however a combination of education and experience will be considered.
3 years of experience in a sales role or growing key account relationships in the entertainment industry.
Knowledge of stage technology, rigging, lifting systems, control systems, and the industry.
Skills with computer software such as MS Office, ERP software, and related.
Experience with client research, face-to-face sales, and general marketing.
A willingness to produce as part of a team without daily supervision.
A personality that is self-driven, highly motivated and results oriented.
Strong verbal and written presentation skills in English. Speaking and writing in Swedish, German or Russian is an advantage.
Customer service, analytical and problem-solving skills.
Must be able to work in a team environment.
Must have drivers license with B certification.
Start: Immediately
Extent: Full-time
Placement: Norrköping or Malmö
Salary: Fixed, as per agreement
For questions about the position or application, email us at jobs@psrig.com or call
+46 10-211 50 50.
Recruitment is ongoing and without deadline. If the recruits matches our needs, we may hire more than one for each position. For more information call us at +46 10-211 50 50 or email to jobs@psrig.com
Om oss
PSRIG (Priebe-ScanRig AB) har rötter tillbaka till 1960-talets Danmark och är idag en av de ledande aktörerna i Skandinavien när det gäller design, tillverkning, försäljning, installation och underhåll av scenteknik för underhållnings- och evenemangsbranschen.
Vi är passionerade över det arbete vi gör och ser alltid till kundens behov i första hand. Vårt mål är att bygga långsiktiga relationer med våra kunder genom att leverera slutresultat som överstiger förväntningarna. Detta gör vi samtidigt som säkerhet alltid har högsta prioritet. På PSRIG är vi stolta över hur vi hjälper våra kunder att förverkliga deras visioner och nå deras mål. Nu letar vi efter andra passionerade, talangfulla, flexibla och lyhörda människor som vill ansluta sig till vårt team.
Att arbeta för oss innebär att arbeta i en professionell men kamratlig miljö. Det finns mycket eget ansvar, men vi ser alla efter varandra så att vi kan uppnå våra mål tillsammans. Vi är ett litet företag som tar hand om våra anställda och som har väldigt roligt under tiden vi jobbar.
Vi är för närvarande inne i en mycket expansiv fas och söker anställa flera nyckelroller till företaget. Om du söker nya utmaningar, vill utveckla dina förmågor och önskar arbeta i en gemytlig grupp av begåvade människor, kontakta oss. Skicka ditt CV tillsammans med en kort beskrivning av varför just du skulle vara perfekt för tjänsten till jobs@psrig.com och skriv vilken tjänst du söker i e-postmeddelandets ämnesrad.
Just nu söker vi efter
Erfarna montörer med färdigheter i metallarbete (Norrköping, heltid)
Vi letar efter någon med erfarenhet av komplexa installationer, gärna från byggbranschen, och som samtidigt är en duglig metallarbetare till vår verkstad.
Hos oss ​​kommer du att vara involverad i många spännande projekt inom den skandinaviska marknaden och få resa med tillhörande ersättning. Uppdragen omfattar ofta höghöjdsarbete och kan ibland vara fysiskt krävande.
Dina arbetsuppgifter KOMMER inkludera att
Utföra uppdrag som installatör/montör/tekniker ute i fältet samt i vår verkstad.

Planera projektens tekniska detaljer.

Boka personal och utrustning.

Beställa hem produkter, reservdelar, förbrukningsmaterial och utrustning.

Arbeta med packning, leverans och returer av utrustning.

Utföra lagersysslor samt underhåll av utrustning.

Utföra kvalitetskontroll enligt gällande rutiner samt ansvara för service och utveckling av våra produkter.
VI EFTERFRÅGAR
Industrierfarenhet från t.ex. verkstad, tillverkning, bygg, rigging, svetsning, elinstallation m.m. är en fördel.

Erfarenhet av att använda verkstadsmaskiner och elverktyg.

Engagemang, kreativitet, handlingskraft och ett lösningsorienterat arbetssätt.

Social kompetens då du kommer att arbeta nära med kunder och andra samarbetspartners.

Att du kan uttrycka dig på svenska och engelska i tal och skrift.

Förmågan att trivas i en händelserik miljö med högt tempo.

Körkort med B-behörighet (BE och C vore extra meriterande).

Utbildning i fallskydd samt truck- eller liftkort vore meriterande.
Start: Omgående eller enligt överenskommelse
Omfattning: Heltid
Placering: Norrköping
Lön: Fast, enligt överenskommelse
För frågor om tjänsten eller ansökningsprocessen, maila jobs@psrig.com eller ring +46 10-211 50 50.
Driven och kompetent säljare med social förmåga (Norrköping/Malmö, heltid)
Vi letar efter någon från underhållningsindustrin med erfarenhet av en försäljarroll eller med kundansvar där man utvecklat viktiga kundrelationer och säljkonton. Kunskap om scenteknik och riggingvärlden kan vara en avgörande faktor.
Hos oss ​​arbetar du aktivt med kunder och leverantörer samt säljer till marknader över hela världen.
DINA ARBETSUPPGIFTER KOMMER INKLUDERA ATT
Samarbeta med försäljningsansvarig och formulera strategier för att förbättra kundrelationer med nyckelklienter och utöka dessa säljkonton.

Arbeta fram nya affärsmöjligheter genom att identifiera potentiella kunder inom underhållnings- och evenemangsbranschen i syfte att öka marknadsandelen och utnyttjandet av företagsresurserna.

Hantera nuvarande försäljnings- och affärsrelationer för att utöka de tjänster och servicenivåer vi tillhandahåller till dessa kunder.

Ändra och uppdatera kontrakt efter behov. Hantera dessa kontrakt och se till att fakturering är korrekt enligt valt kontraktsspråk.

Arbeta med försäljningsansvarig för att schemalägga resurser för utveckling och tillverkning utifrån kundens behov.

Utföra övriga uppdrag enligt instruktion.
VI EFTERFRÅGAR
En möjlig kandidatexamen, dock kommer en kombination av utbildning och erfarenhet att övervägas.

3 års erfarenhet av en försäljarroll eller roll med kundansvar i syfte att utveckla/fördjupa kundrelationer inom underhållningsindustrin.

Kunskap om scenteknik, rigging, lyftsystem, styrsystem och branschen i stort.

Färdigheter med programvara som MS Office, affärssystem (ERP) och relaterad programvara.

Erfarenhet av kundresearch, försäljning via fysiska kundmöten och grundläggande marknadsföring.

En förmåga att prestera som en del av ett team utan daglig översyn eller arbetsledning.

En driven, motiverad och resultatorienterad personlighet.

Stark förmåga till muntliga och skriftliga presentationer på engelska. Att kunna prata och skriva på andra språk såsom tyska eller ryska är inget krav men en stor en fördel.

En serviceinriktad och problemlösande personlighet med god analytisk förmåga.

Måste vara en team player.

Måste ha körkort med B-certifiering.
Start: Omgående eller enligt överenskommelse
Omfattning: Heltid
Placering: Malmö eller Norrköping
Lön: Fast, enligt överenskommelse
För frågor om tjänsten eller om ansökningsprocessen, maila jobs@psrig.com eller ring +46 10-211 50 50.
Rekrytering sker fortlöpande och utan någon satt deadline. Om flera ansökande matchar vår profil finns möjligheten att vi anställer flera personer per kategori. För mer information ring oss på +46 10-211 50 50 eller maila på jobs@psrig.com
Social media Ad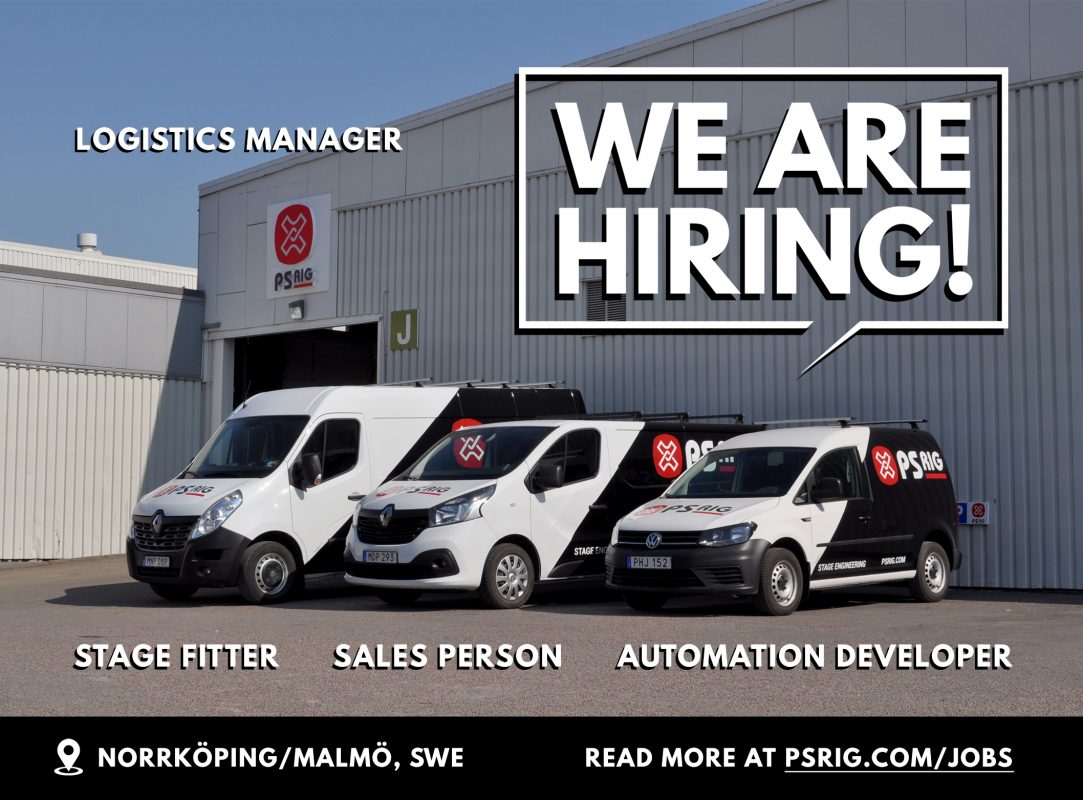 PSRIG is a company that lives and breathes stage technology and rigging.
We design, sell, install and maintain stage technological systems in the whole of Scandinavia.
We also have significant exports with focus on Europe.
We are now looking to strengthen our team.
With us, you get the opportunity to evolve your skills and adopt new challenges!
We offer a stimulating and varied workplace with many exciting technical projects in a company that is characterized by team spirit, growth, and confidence in the future market.
#psrig # norrköping # malmö #stage #stagetechnology #rigging #mechanics #logistics #sales #salesperson #developer #automation #installer #fitter #electrician #vacancy #vacancies #job #jobsearch #unemployed #fulltimejob #unemployed
#newjob #jobads #recruitment #socialrecruitment #career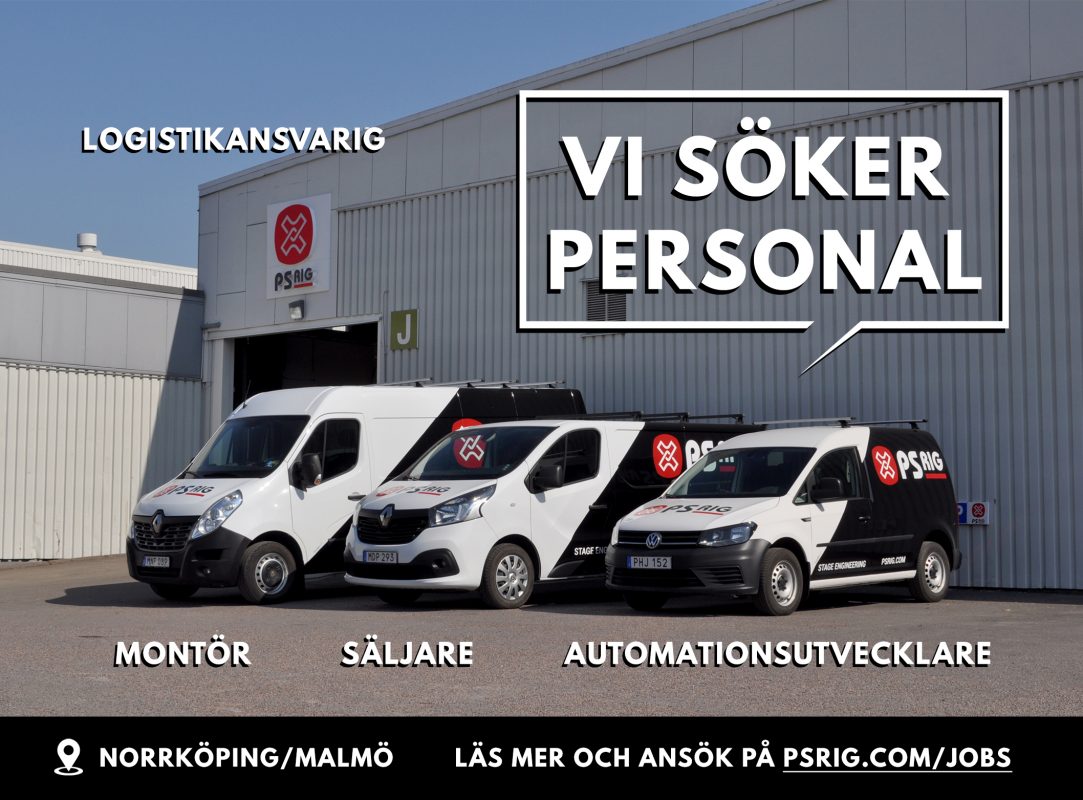 PSRIG är ett företag som lever för scenteknik och rigging. Vi utformar, säljer, installerar och underhåller scentekniska system i hela Skandinavien. Vi har även betydande export med fokus på Europa. Vi söker nu förstärka vårt team.
Hos oss får du möjlighet att utvecklas och anta nya utmaningar! Vi erbjuder en stimulerande och varierande arbetsplats med många spännande, teknikintressanta projekt i en verksamhet som präglas av teamkänsla, tillväxt och framtidstro.
Välkommen med din ansökan! Läs mer på psrig.com/jobs
#psrig #norrköping #malmö #scenteknik #rigging #mekanik #logistik #sälj #säljare #utvecklare #automation #montör #installatör #elektriker #vakans #vakanser #jobb #jobbsök #sökajobb #arbetslös #heltid #heltidsjobb #nyttjobb #ledigajobb #rekrytering #socialrekrytering #karriär