About us
PSRIG (Priebe-ScanRig AB) has roots back to Denmark in the 1960s and we are today one of the market-leading players in Scandinavia when it comes to designing, manufacturing, selling, installing and maintaining stage technology for the entertainment and event industry.
We are quite passionate about what we do and always look to the client's needs in the first place. Our goal is to build lasting relationships with clients by delivering final results that exceed expectations. We do this while always keeping safety a top priority. At PSRIG, we're proud of the work we do, helping our clients produce their vision and goals. We are now looking for other passionate, talented, flexible and responsive people to join our group.
Working for us means to work in a professional but friendly environment. There is much own responsibility, but we all look after each other so that we can achieve our goals together. We are a small company that takes care of our people and have a lot of fun along the way.
We are currently in a very expansive phase and seek to employ several key roles to the company. If you are up for a new challenge, want to evolve your professional skills and like working in a friendly group of talented people, then contact us. Please send us your CV along with a brief description of why you would be perfect for the position to jobs@psrig.com and quote the job title in the subject of the email.
Right now we are looking for
Recruitment is ongoing and without deadline. If the recruits matches our needs, we may hire more than one for each position. For more information call us at +46 10-211 50 50 or email to jobs@psrig.com
Om oss
PSRIG (Priebe-ScanRig AB) har rötter tillbaka till 1960-talets Danmark och är idag en av de ledande aktörerna i Skandinavien när det gäller design, tillverkning, försäljning, installation och underhåll av scenteknik för underhållnings- och evenemangsbranschen.
Vi är passionerade över det arbete vi gör och ser alltid till kundens behov i första hand. Vårt mål är att bygga långsiktiga relationer med våra kunder genom att leverera slutresultat som överstiger förväntningarna. Detta gör vi samtidigt som säkerhet alltid har högsta prioritet. På PSRIG är vi stolta över hur vi hjälper våra kunder att förverkliga deras visioner och nå deras mål. Nu letar vi efter andra passionerade, talangfulla, flexibla och lyhörda människor som vill ansluta sig till vårt team.
Att arbeta för oss innebär att arbeta i en professionell men kamratlig miljö. Det finns mycket eget ansvar, men vi ser alla efter varandra så att vi kan uppnå våra mål tillsammans. Vi är ett litet företag som tar hand om våra anställda och som har väldigt roligt under tiden vi jobbar.
Vi är för närvarande inne i en mycket expansiv fas och söker anställa flera nyckelroller till företaget. Om du söker nya utmaningar, vill utveckla dina förmågor och önskar arbeta i en gemytlig grupp av begåvade människor, kontakta oss. Skicka ditt CV tillsammans med en kort beskrivning av varför just du skulle vara perfekt för tjänsten till jobs@psrig.com och skriv vilken tjänst du söker i e-postmeddelandets ämnesrad.
Just nu söker vi efter
Rekrytering sker fortlöpande och utan någon satt deadline. Om flera ansökande matchar vår profil finns möjligheten att vi anställer flera personer per kategori. För mer information ring oss på +46 10-211 50 50 eller maila på jobs@psrig.com
Social media Ad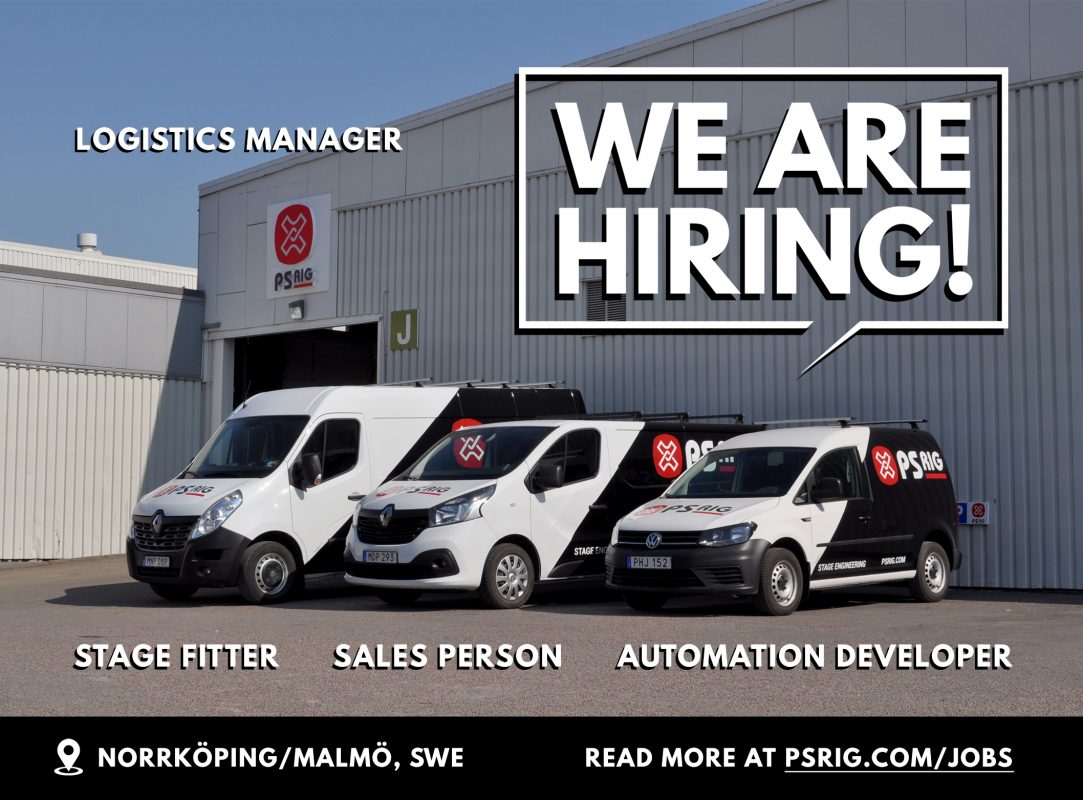 PSRIG is a company that lives and breathes stage technology and rigging.
We design, sell, install and maintain stage technological systems in the whole of Scandinavia.
We also have significant exports with focus on Europe.
We are now looking to strengthen our team.
With us, you get the opportunity to evolve your skills and adopt new challenges!
We offer a stimulating and varied workplace with many exciting technical projects in a company that is characterized by team spirit, growth, and confidence in the future market.
#psrig # norrköping # malmö #stage #stagetechnology #rigging #mechanics #logistics #sales #salesperson #developer #automation #installer #fitter #electrician #vacancy #vacancies #job #jobsearch #unemployed #fulltimejob #unemployed
#newjob #jobads #recruitment #socialrecruitment #career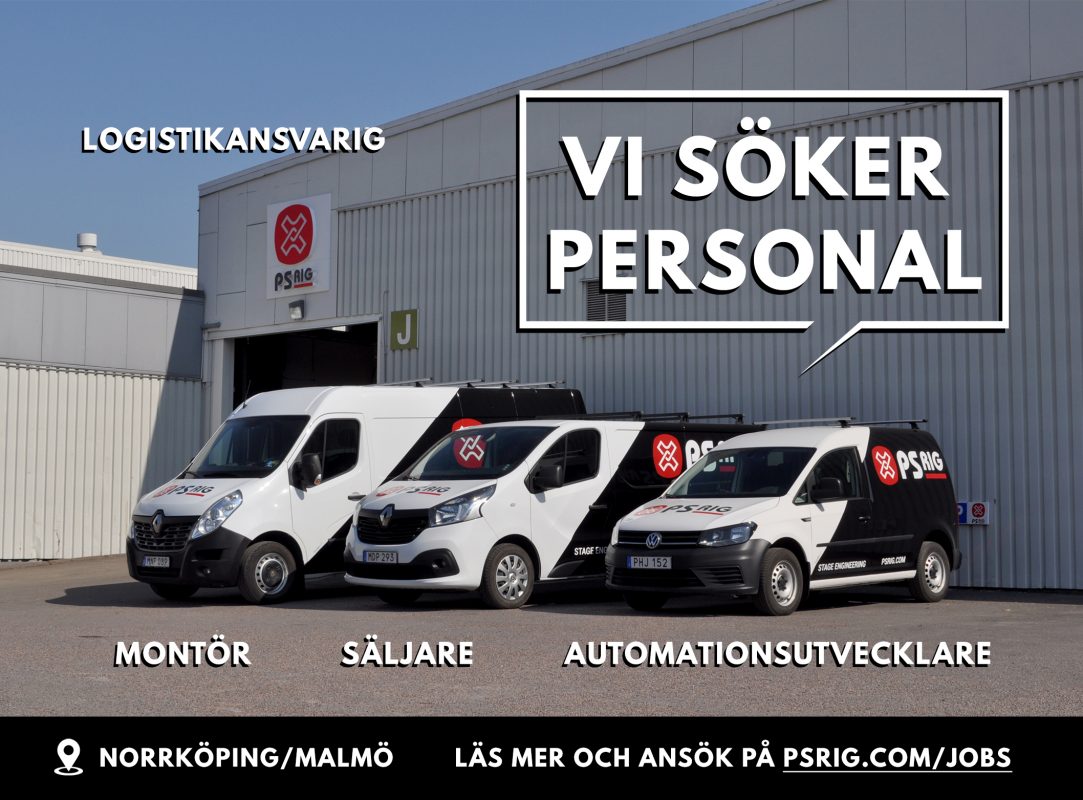 PSRIG är ett företag som lever för scenteknik och rigging. Vi utformar, säljer, installerar och underhåller scentekniska system i hela Skandinavien. Vi har även betydande export med fokus på Europa. Vi söker nu förstärka vårt team.
Hos oss får du möjlighet att utvecklas och anta nya utmaningar! Vi erbjuder en stimulerande och varierande arbetsplats med många spännande, teknikintressanta projekt i en verksamhet som präglas av teamkänsla, tillväxt och framtidstro.
Välkommen med din ansökan! Läs mer på psrig.com/jobs
#psrig #norrköping #malmö #scenteknik #rigging #mekanik #logistik #sälj #säljare #utvecklare #automation #montör #installatör #elektriker #vakans #vakanser #jobb #jobbsök #sökajobb #arbetslös #heltid #heltidsjobb #nyttjobb #ledigajobb #rekrytering #socialrekrytering #karriär